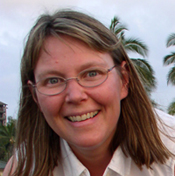 I discovered Montessori teaching methods in my college days and was immediately drawn to them as a focus for my life's work and career.
I have a Bachelor of Education degree and American Montessori Society (AMS) teacher certification from Seattle University. I founded Children's Garden Montessori School in 1990 and have over 25 years of teaching experience.
Being an effective Montessori director and teacher requires a lifelong commitment to learning and professionalism. Becoming better every year as a Montessori guide is a responsibility that I take very seriously.
I am a member of Association Montessori International (AMI) and North American Montessori Teachers Association (NAMTA). I participate in regional and national Montessori conferences.
I am also dedicated to meeting and exceeding the high standards for child safety and professionalism that are required for administrators and staff of state-licensed childcare facilities.